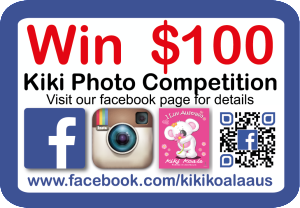 •

 •
STARTING 1stNOVEMBER 2015! Only 14 Days to go!
The Kiki Koala Happy Days Photos Competition – open to all!
All photographic entries must be posted to www.facebook.com/kikikoalaaus
The competition will run from 1 November 2015 to 28 February 2016
Take a selfie wearing your new Kiki Koala tee shirt in your favourite place with a big Happy Days smile!
You can be anywhere in the world, on your own or with pets, or in a group with friends or family.
Go to Kiki Koala Facebook page www.facebook.com/kikikoalaaus
Like the page and upload your favourite photo with the hashtag of the store where you bought your tee shirt.
We'd also love you to become a friend of Kiki Koala by sharing with all of your friends!
There is no photo upload limit per month but you may enter every month.
Photo is valid to win the prize only for the month in which it is posted
The photo with the most likes each month will WIN.
In the case of a tie the prize will be shared.
The winners will be announced on the Kiki Koala Facebook page
on the first day of each following month.
The judge's decision will be final
Times and dates will be AEST (Australian Eastern Standard Time)